Payment Processor for 20,00,000+ Individuals, Businesses and many NGOs in India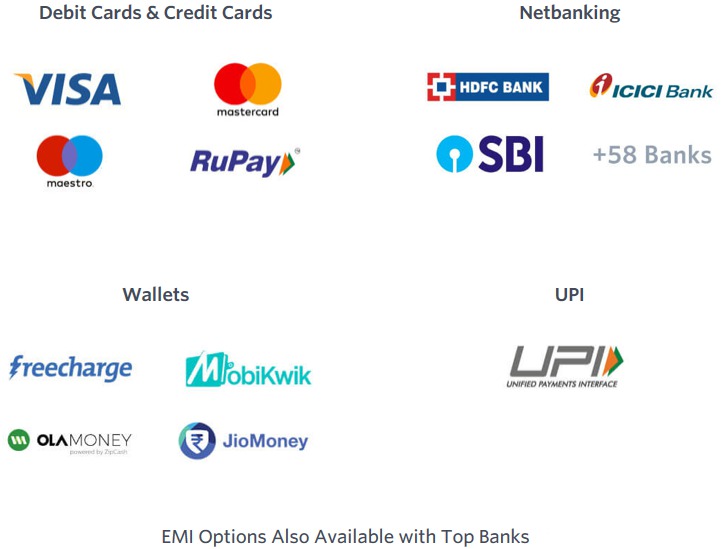 Instamojo is a popular Multi-Channel Payment Processor for Indian individuals & businesses of any size. They are reliable and even provide card payment services to the Mumbai Metro One (venture promoted by Reliance Infrastructure).
Once you signup you can accept Indian Credit/Debit Cards, Wallets, Net Banking, UPI & EMI payments in INR. You do not need to have an existing website to signup.
Their transaction fee is reasonable at 2% + ₹3 and there are no setup fees or maintenance charges. You also get a setting to use it for free by passing the transaction fee as a convenience fee to your customer.
By using multiple payment gateways in the background they ensure that atleast one is always available for processing payments if the other gateways fail. So payment failure rate is very low.
Signup is completely online and takes just 2 minutes:
Provide email address, password, mobile number and username.
Provide PAN Card number and name.
Enter bank account details for receiving funds from payments.
KYC is also completely online and only needs the PAN Card scan & recent Bank statement scan to be uploaded. You can start receiving payments (under ₹10,000 before eKYC) immediately after signup.
Payments are settled after deducting service charges + GST into your linked Indian bank account within 3 business days.
Instamojo has also enabled a number of developmental NGOs and non-profit organisations to collect donations, fund specific campaigns, and sell their products online with special programmes.
You need to signup with Instamojo before enabling the Instamojo payment processor module for your pMP link(s).
Exclusive Signup Offer from Instamojo via payMyPage (iWebz)
Get the lowest payment gateway fees in India for your online sales
Exclusive Instamojo Premium Store Offer via payMyPage (iWebz)
Ready online store with customizable themes, shopping cart, payment gateway, order & discount management, marketing, shipping, etc.