Online Payment Processor that powers India's Leading Unicorns and Largest Brands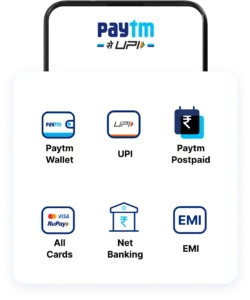 Paytm offers a robust high-scale online payment gateway solution that helps registered Indian organisations with existing websites to collect payments from their website with 100+ payment options.
These payment options include Indian Prepaid, Credit & Debit cards (Visa, MasterCard, RuPay), Net Banking, UPI, Digital Wallets, Paytm Postpaid and EMI options.
Lakhs of Indian businesses including leading Unicorns and the largest brands use Paytm.
Signing up is free of cost and is a completely online process. The settlement cycle is T+1 (next-day settlements), irrespective of holidays.
You need to have an account with Paytm before enabling the Paytm payment gateway on your pMP page(s).